I'm surprised that none of the Brits mentioned this, so, leave it to a Yank to bring it up
We truly would either not have anywhere near what even the Pi can do today, or we wouldn't have any computing capability beyond mechanical calculating devices, were it not for Turing's seminal work on computing theory starting in the 1930s. It's estimated that his contributions helped shorten WW-II by as much as two years and saved possibly millions of lives, albeit there were tens of thousands of people at Bletchley Park working on breaking and decrypting Enigma (and many other) encrypted Axis military and government telegraphic messages. In addition, key work was done in Poland, before it was invaded in 1939, to document an Enigma machine and its vitally-important rotors (it was misdelivered to the old address of the German embassy, disassembled and documented, then reassembled and repackaged for delivery to the new embassy's address). Then, there was the parallel U.S. effort to break Japanese naval and diplomatic encryption systems.
There are some amazing mechanical Turing machines that can be found on YouBoob and other web sites made from everything from Legos to you-name-it. They faithfully reproduce Turing's design of a machine that can read, erase, and write symbols to any position along a tape (infinite in Turing's design, but, quite finite in the models), and act upon the read symbols to determine future actions. This YouBoob video of a working model using 35mm film, an erasable pen, a felt erasing wheel, a digital camera, some servos and stepper motors, and a microcontroller shows exactly how a Turing machine works:
http://www.youtube.com/watch?v=E3keLeMwfHY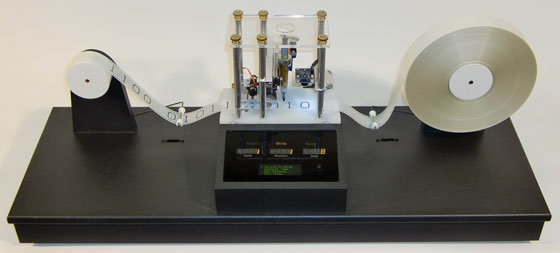 Obviously, we need to build one run by a Pi ...